A Nigerian lady identified as @Slee_Nzama on twitter took to her twitter account to share the picture of a snake she saw in her sister room on her graduation day and she suspect it is dad that died in 2017 because the snake chose to come to her room on a special day.
The lady revealed that her father died in 2017 after her sister's first year in the University and the snake appeared in her sister's room on her graduation day and she reveal that she suspect it is her dad but it must go away because she is scared and doesn't want to harm it.
In her words she said "So my Dad passed in 2017, my sister's 1st year at varsity. Today is my Sister's graduation day and of all the rooms, this snake chose my sisters in her special day. I see people saying it's idlozi… I'm starting to believe Dad is here and he's proud but the snake must go, I get that u guys say it's harmless, but for a person who's scared of snakes, how do i get it out without scarying it".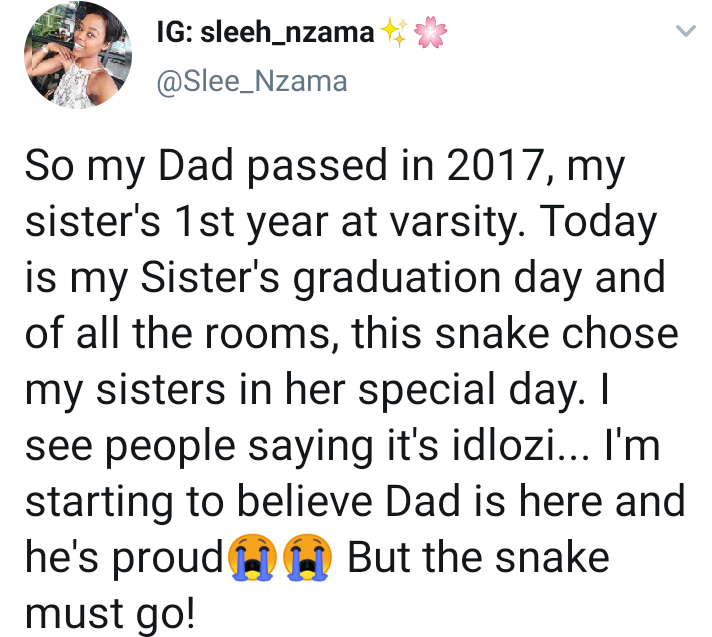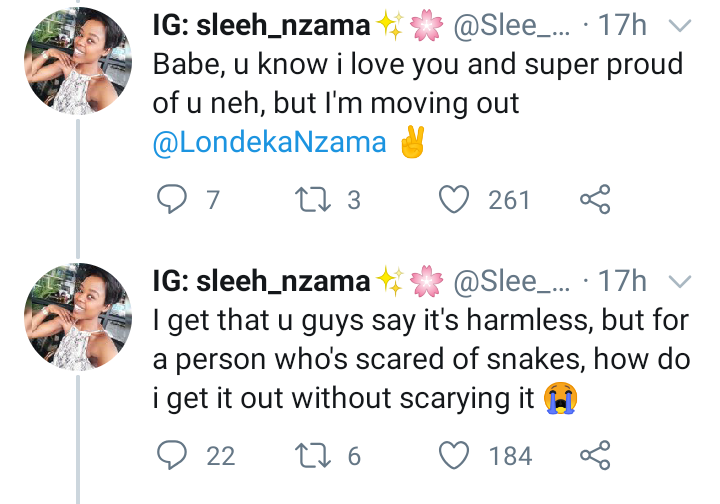 She eventually shared a video of herself letting the snake escape throughout the window.
And it's out 😅 Thank you guys pic.twitter.com/InkTR7J4Pq

— IG: sleeh_nzama🌻🌻 (@Slee_Nzama) April 3, 2020
Some Nigerians believe that it was her father and urged her to beg her father not to come in the form of a snake while others fail to believe the snake is her father.
See the reactions of Nigerians below: