It is a commonly known fact that the deadly Coronavirus has now changed the way people live, interact and even the way we welcome our loved ones we haven't seen in awhile same with the case of this family.
A Twitter user who is identified as @sfiyyah_a shared a video revealing how her family welcomed her sister when she came back home amidst the outbreak of Coronavirus in Nigeria.
In the video, as soon as the mother opened the gate for her daughter, she made sure some distance was between them, then she handed her wipes to clean her hands. Their father was close by and he also took wipes and used it to wipe down the gate their daughter might have touched, even though she told them she didn't touch anything.
They also asked her sister to bring out her phone so it could be wiped down.
When they were done wiping her down, they allowed her to go further into the compound, but not into the house. They then asked her to drop her bags outside for further cleaning.
As usual, the tweet generated many mixed reactions and here are some of them: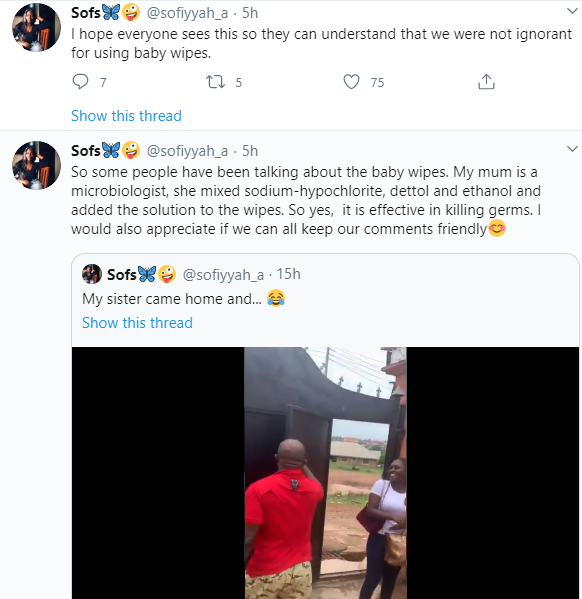 The Twitter user who shared the story revealed that her mum is a microbiologist and she mixed sodium-hypochlorite, Dettol and ethanol, and added the solution to the wipes to make it effective in killing germs.
Watch the video below:
My sister came home and… 😂 pic.twitter.com/xt3h8hJTyR

— Sofs🦋🤪 (@sofiyyah_a) March 24, 2020
I love it https://t.co/WU2V6o2YA1

— Ndx (@NdaliOzegbe) March 25, 2020
Your family is not taking any chances, nice one

— Anya william (@WilliamAnya) March 25, 2020
Smart family. Done humorously out of love and care yet with health and safety in mind…👌

— PORT HARCOURT DESIGN DECOR PLUG® (@bizzmane52) March 24, 2020
You need to see the way I was treated In my own parents house today
They made me pull off my cloths outside and bath outside😭😭
Nobody hugged me
This thing is no jokes

— TROUBLEMAKER😤 (@Evans_okl) March 24, 2020
This is what they should have done to your Sis..😂😂😂😂 pic.twitter.com/nz29aYB0su

— ⚓ 𝙴𝚌𝚑𝚘 𝙾𝚜𝚌𝚊𝚛 🦋 (@Olawhaley_) March 25, 2020
You need to see what happened in my house tonight,hubby knocked the door,we opened and he jumped inside not allowing anyone to touched him,he took his bath,washed clothes use sanitize to clean the door and we were legit laughing at him. Baba no wan kobalize us😂😂

— Ibidun mary (@ibidunmary) March 24, 2020
If everyone can borrow sense like your folks, we will plank the curve of the infection in two weeks! Give ur Mum and Dad three gbosa from me! 👊🏽👊🏽👊🏽#COVID19NIGERIA

— UncleTJ (@babatj_says) March 25, 2020